This is a Fantastic Opportunity to Earn Good Commissions by Promoting This Top Quality Product...
Get All The Information And Tools You Need
to Promote This Product on This Page
Main Product -.Randy Smiths Stolen Webinar
As well as having my own online business, I do some part-time consulting for other marketers. John Thornhill is one I am good friends with and he pays me to help with his high ticket Partnership To Success program.

This product is actually one of the weekly live training that I did for John while he was on vacation, After watching it on his return he called me and told me how impressed he was, and that he'd again picked up some great new insights himself... and even suggested I release this to help others marketers who are new to selling.
Upsell - 10 More Quality Products by Randy Smith
EVERYTHING IS COVERED IN THE KITCHEN SINK UPSELL! The first Upsell is a Kitchen Sink-style package that contains 10 of the best products created by Randy. They are all IM sales-related keeping in context with the front-end offer. These products are still available individually but are heavily discontinued for this package w. Together they represent HUNDREDS of dollars of value!
Downsell - 5 of Randy Smiths Core Products
These are Randy's 5 Core Products and include Sales Letter ABC, Video Sales Letter ABC, FunnelVision, MagicAuctionWords & HeadlineHeist.
OTO2 - Randy's GDPR Plugin
New App Gives You Immediate GDPR Compliance With "Copy & Paste" Simplicity For ANY App, Website Page You Own...
Without Needing Expensive Software or Investing Time Conducting Research!
COMMISSION STRUCTURE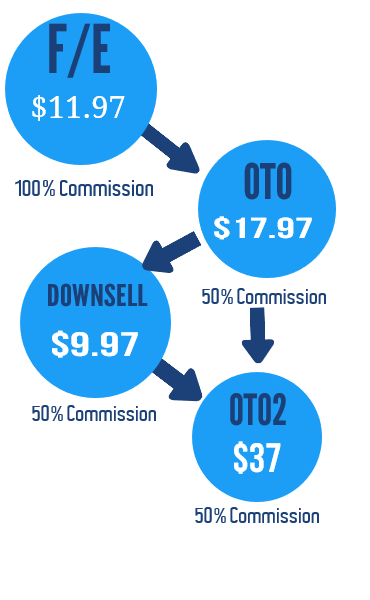 We use Warrior Plus to promote our products. You can get your affiliate link below.
We don't market to our JV's. We run a legit company and we have a great reputation.
Please read our terms to ensure that the rules are clear and everything remains above board.
Click Here to Get Your Affiliate Link!
Join Randys Affiliate list to keep in the loop.
You will ONLY get affiliate-related updates when we have offers and launches.
NOT Randys Daily Ramblings emails!
Click Here To Go To The Email Swipes!
GET YOUR PROMOTIONAL IMAGES BELOW
RIGHT-CLICK ON AN IMAGE TO DOWNLOAD